Art Gallery Openings: Connecting Artists with Collectors and Other Artists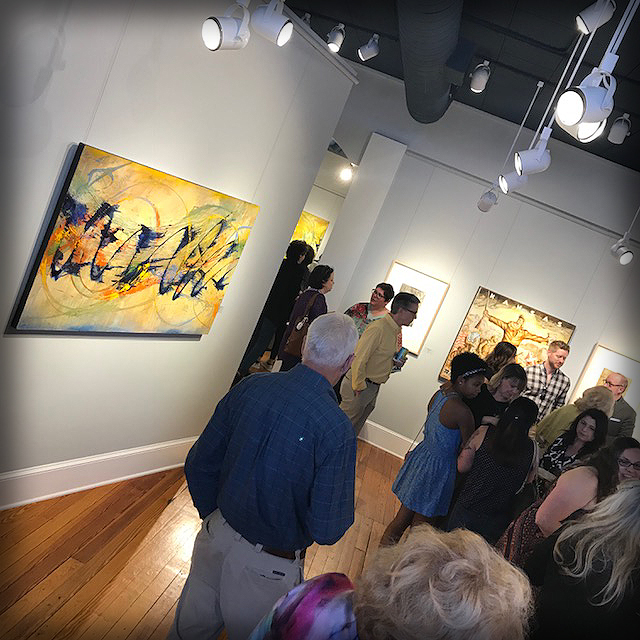 An art gallery opening is the gallery's opportunity to showcase new work, introduce their artists to customers and to gain loyal followers and patrons of the arts. In this post, I'll share a bit about what you will come away with, other than art, if you make a point of attending openings at art galleries in your area. They are generally not the exclusive "invitation only" events you may think they are!
RECENT ART OPENING
April 27th marked the debut of a new group exhibition that I am part of titled, "Intersection: Meeting of the Creative Minds" at Strecker Nelson West Gallery in Manhattan, KS. That night, Strecker Nelson West hosted a fabulous artist's reception complete with food, drink, and plenty of socializing with artists and art-lovers alike. Every reception I attend, including the one I went to when my work was on display at the Leopold Gallery in Brookside, reminds me of how fabulous it is to be featured as part of this outstanding community of artists. It is always exciting to see wonderful works of art being celebrated and enjoyed.
The Strecker Nelson West Gallery, which has some moveable walls, is in a different configuration every time I've been there. Depending on the mix of two- and three-dimensional art, the gallery space can ebb and flow to accommodate and showcase the work at it's best. That evening the gallery looked particularly colorful and welcomed an enthusiastic crowd!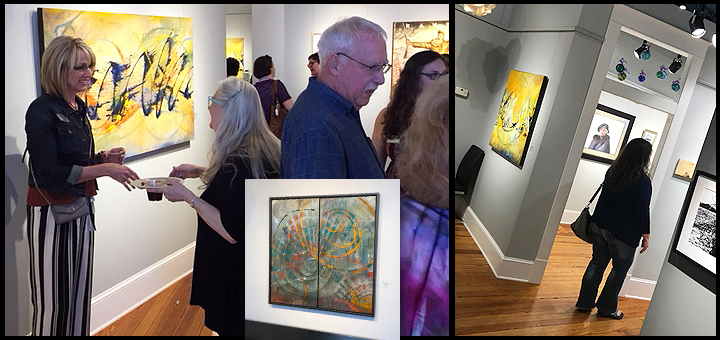 BEING AT THE GALLERY OPENING NIGHT
When a public art opening occurs not only is it a fun party-like atmosphere, but the people attending are getting the very first look at the new collection offered by the gallery. It is also many times some of the most recent work by the artists they represent. If there is a particular artist you are following, opening night is where you want to be in order to get the first shot at seeing and purchasing their new work.
Once you find a gallery in your town that curates the type of work you are looking for, get to know the owners at these events. It is fairly often that art for future exhibits arrives in the gallery a couple months before opening night. Once you know the owner and the owner knows what you like, they will notify you as soon as new artwork crosses their front door. Because of this, it is quite common that art slated for a particular show is sold before opening night. One of my paintings titled, "Many Ways To Get There" was gone before the show opened because a preview of it was requested. Previewing new pieces is one of many benefits that come with getting to know gallery owners!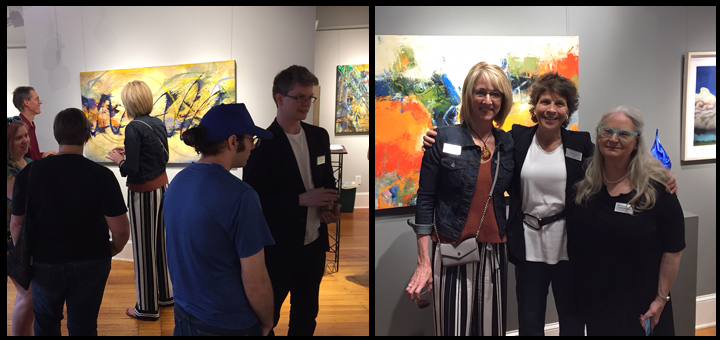 ART EXHIBIT OPENINGS: AN ARTISTS OBSERVATION
As an artist, I find that every time I attend an opening I not only come away having met interested buyers, but I gain a better understanding of the gallery representing me and acquire a broader network of friends in the art world.
I attend art exhibit openings because connecting in person can turn casual interest in a painting into ownership of that painting and often turns buyers into collectors. Many times I have been introduced to someone interested in a piece that is showing and the questions that come up are always fascinating. In that moment I have the opportunity to share things like; what I was thinking when I created a piece, what's behind the title, what I see in a piece, why I chose certain colors, etc.
Another reason I make a point to be present at these exhibits is that it gives me the opportunity to see the various collections curated by the gallery owners and gallerists so that I can better understand how their selection from my body of work, fits in with the overall offerings in their collection. Not that I paint specifically for any one gallery, but sometimes when I finish a piece and it "feels" like a certain gallery representing me, I then make it a point to send an image of it to that gallery for consideration.
I'm also a big fan of shoptalk with other artists. Catching so many of us in one space with our art allows us to share ideas about techniques, studio spaces, art business tips and general artists' life stuff.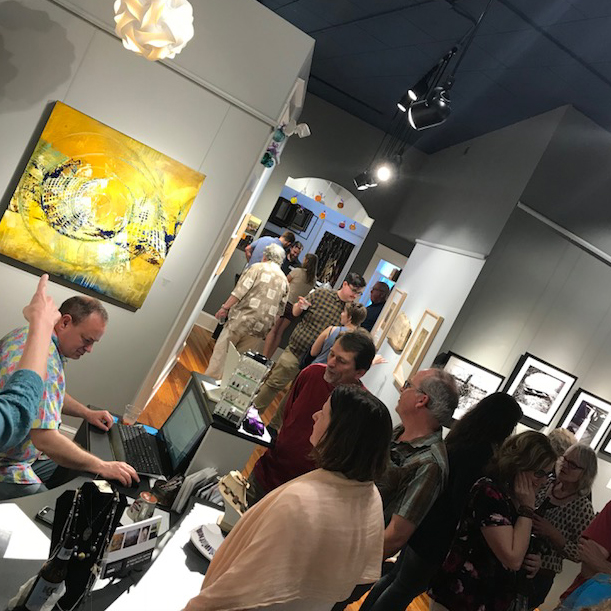 JOIN THE PARTY!
If you see openings listed for a gallery in your area don't hesitate to stop in. Many people have a false impression that openings are exclusive and require an invitation. That can't be further from the truth! Galleries and artists both look forward to meeting new people and introducing them to their art and other art lovers!
Have you had a wonderful experience at an art gallery opening in the past? Comment below, I want to hear all about it!