Lynette Ubel's Painting
"ArchiTexture One"

Makes Its Way onto the TV Series

Chicago Fire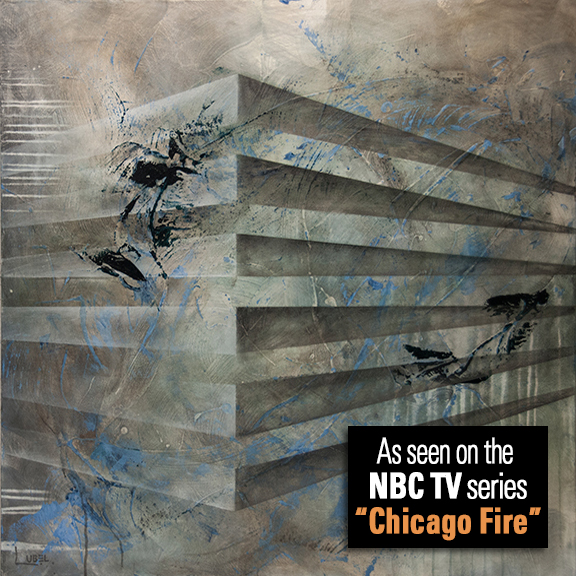 Lynette Ubel's painting "ArchiTexture One" will be used as part of the set design on the very popular show Chicago Fire. Chicago Fire is an action-drama that explores the professional and personal lives of firefighters and paramedics within the Chicago Fire Department. When asked about her painting appearing on the show, Ubel says:
"Many people tell me Chicago Fire is one of their favorite shows and want to know when and what episode they will see my artwork in. I wish I knew that myself! The Leigh Gallery who represents my work in Chicago coordinates the handling of art rental and placement for the Chicagoland television production companies has a simple explanation for how things work on set."
Jean Leigh, owner of The Leigh Gallery says, "Paintings are part of set design and editors don't have time to note all of their prop sources which scene, episode, apartment or office specific items will show up in. What we do know is that Chicago Fire returns with new episodes on April 24th, 2019 and "ArchiTexure One" will be somewhere in that run."

THE ARCHITEXTURE COLLECTION

Lynette's first exploration with the juxtaposition of clean architectural lines layered in rich texture evolved into "ArchiTexture One." It is this piece that Chicago Fire placed on set for filming in March of 2019. The success of this painting inspired further exploration which later became the series she calls the ArchiTexture Collection. The monochromatic palette of this first piece meant that the next paintings would delve in with more colorful representational structure. "Connectivity," "Imagine That" and "Flying Colours" are all artistic expressions that fall into her ArchiTexture series, all of which are currently available at Hilliard Gallery, in Kansas City Missouri.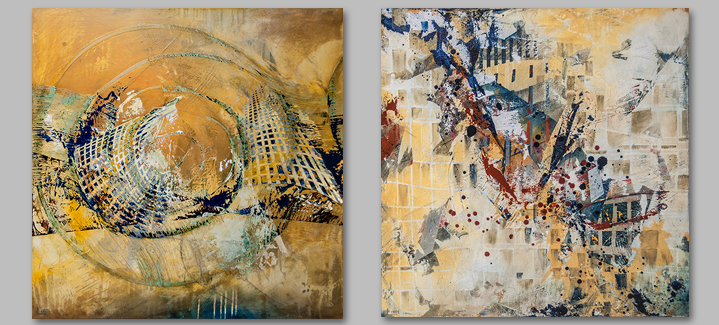 As you can see with the works above, Ubel continues to create collections that expand on her original inspiration while still connecting the works in unexpected ways.
FLYING COLORS ON THE CHI AND CHICAGO ROOTS
"Flying Colours" another member of the ArchiTexture Collection, had its own TV debut on the set of the hit SHOWTIME series, The Chi in the fall of 2018. The Chi, created by Emmy® winner Lena Waithe, starring Jason Mitchell, Jacob Latimore, and Tiffany Boone, is a coming-of-age drama centered around a group of residents that live on the South Side of Chicago.
Ubel has a history of selling art in Chicago. As a child, Lynette would collect the drawings and paintings she had created and sell them door to door for a quarter in her Chicago suburb. Ubel has said before that she has fond memories of taking field trips to the downtown Art Museum and found inspiration to start painting during these trips. The Chicago Symphony Orchestra inspired her to take up the flute which I played for many years." Ubel says, "The city, as a whole, made a tremendous impact on me and my impression of the arts at a young age."
Chicago Fire returns with new episodes on April 24th, 2019, keep an eye out for "ArchiTexture One" in the new season!