The Art of Solo Art Exhibitions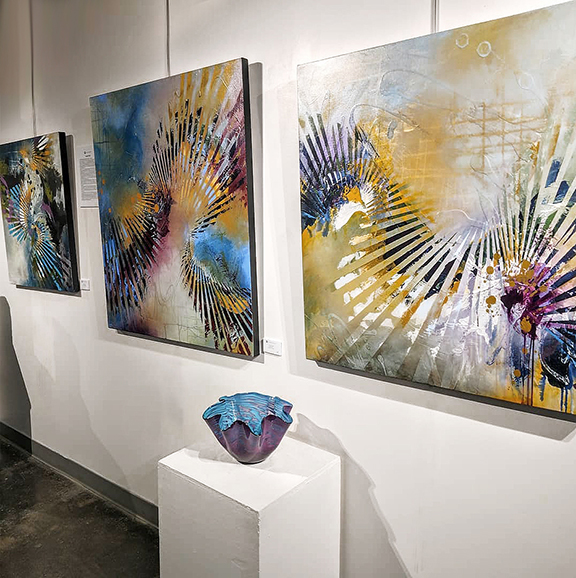 Exhibitions are one of the most effective ways for artists to become known and for their artwork to gain a following. Art exhibitions warrant in-depth exploration and solo exhibitions, in particular, bring people into one artist's world temporarily. Exhibitions present art to the public in a strategic and unique way by telling a story and sending viewers on a visual journey.
The Value of Solo Exhibitions for Artists
For artists, having a solo exhibition means that all eyes are on your work. Having people focus solely your artwork is not only exciting but it allows them to see and understand your voice, vision, style and use of color. Landing a solo exhibition often brings about more professional opportunities. A great solo exhibition could catapult your career and get other gallery owners talking about your work.

When an artist begins planning their solo exhibition they will work with a gallery owner or curator to choose specific pieces to present, make sure those pieces are exhibition ready, and come up with a title for their show.
The title of an exhibition should be captivating and provide a teaser for themes they might expect to see in your artwork. The title should also speak to the work you are putting on display. Below, I share my experience with titling my most recent solo exhibition.
Titling Art Exhibitions: My Hilliard Gallery Show

When Bob Swearengin, owner of Hilliard Gallery was preparing for my solo show he asked me to title the exhibit. I knew he needed a name that could sum up the collective experience one would feel being surrounded by the twenty-two paintings we had selected to exhibit. A large number of the works we chose came from my "Chroma Trail" series so creating a title that spoke to that while still being inclusive of the paintings that are not part of that series was my goal.
I thought about how this series feels to me with its undeniable movement and curiosity. There is color and motion that lead the eye across, and into the depths of the canvas. The motion you see and feel is reflective of the dynamic motion that physically goes into each painting as I'm creating it. For that reason, I came up with "Captured Motion" as the title – one, because it has a nice ring to it, but most importantly because it speaks to the movement that is typical in most of my work.

To make sure "Captured Motion" was the right title for this show I also considered how my series is coming across to others based on comments they have shared. During my solo exhibition at
Chapin Studios and Gallery
in Lincoln, Nebraska, I had three individuals tell me separately about how they feel when viewing my "Chroma Trails."
"Being drawn into the painting and having it take you deep inside along an unfamiliar trail and being happy to go along."
They all passed along a very similar perception of, "Being drawn into the painting and having it take them deep inside along an unfamiliar trail and being happy to go along." They also each mentioned, "The motion they see and feel appearing frozen or slowed down enough to follow with intrigue." With that, I had a title…so on with the show!
A Bit of Hilliard Gallery History
Hilliard Gallery is the oldest gallery in Kansas City. Its The Plaza location opened in November of 1974, by the founding owner Kent Hilliard. In its second year of operation, the gallery became the authorized dealer for artist LeRoy Neiman in the Kansas City area, and they still are to this day. The gallery has perservered through disasters like the plaza flood of 1977 and the Hyatt hotel collapse, in which the satellite gallery was completely destroyed along with the inventory inside. The Plaza location closed 13 years ago, but the gallery relocated to the Crossroads Arts District under the ownership of Bob Swearengin and continues to thrive.
The renowned gallery was recently named one of the 25 Best Galleries and Museums and continues to be an eclectic and highly regarded place for talented local, regional, and national artists to display their work.
"Captured Motion" runs through the end of September at Hilliard Gallery.
Have you done a solo exhibition in the past? How did you find a title and prepare? Share your experiences below!