Chapin Studios and Gallery Features Artist Lynette Ubel Through June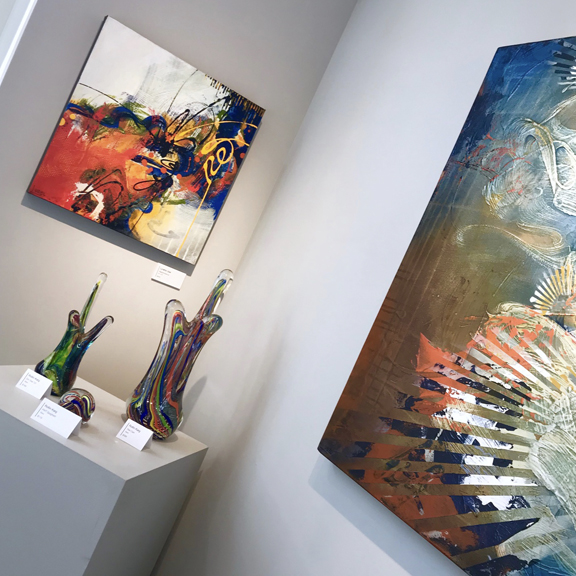 About one year ago, Scott Sullivan reached out to Kansas City artist, Lynette Ubel, inquiring about size, material and pricing on some of her large abstract acrylic paintings. Sullivan is the principal at Erickson Sullivan Architects in Lincoln, Nebraska and has a passion for the arts…particularly contemporary art.
With the signature linear style that Ubel is developing, it made sense that an architectural firm might be drawn to her artwork. After those initial conversations in the spring of 2018, Ubel didn't hear back from Sullivan until early this year. When they first spoke, Lynette was unaware that, in addition to being the principal at Erickson Sullivan Architects in Lincoln, Nebraska, Sullivan was also the creative force behind a unique new art gallery and studio space called Chapin Studios and Gallery.
The conversations early this year revolved around the gallery owner's interest in having Ubel exhibit her work as their featured artist. Ubel said, "I'm always open to opportunities to be featured in quality galleries like this one. Exposure to new art collectors is priceless."
I'm always open to opportunities to be featured in quality galleries like this one. Exposure to new art collectors is priceless.
Dates were selected, new work was created, artwork was hung and the Chapin Gallery exhibition of Ubel's twenty paintings opened on June 7th, to a steady stream of art appreciators. The gallery is now in its second year in downtown Lincoln and is officially "on the map" as a distinctive stop for the First Friday art scene.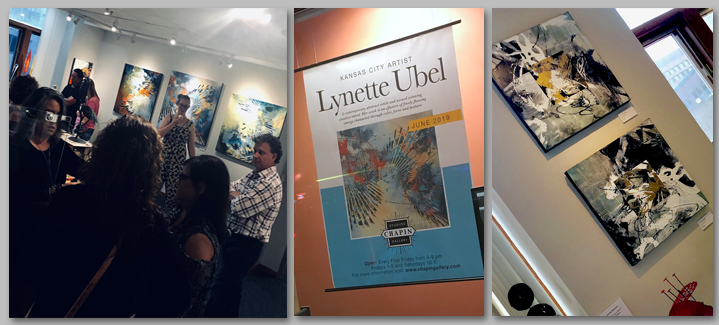 ART OF CHAPIN
Chapin Studios and Gallery is a collaboration of select local artists from Lincoln, Nebraska, that seek an inspirational studio work environment to celebrate the visual arts. Their studios co-exist with a gallery that provides patrons with the opportunity to enjoy a variety of exceptional local and regional art.
​
Chapin's goal is to provide Lincoln with a diverse variety of art. Beyond featuring the work of the studio artists they reach out and invite guest artists, like Kansas City artist Lynette Ubel, to be part of the ongoing infusion of fresh artwork into their gallery.
PRESENTING A COLLECTION
A carefully curated grouping of twenty paintings was pulled together and delivered to Lincoln a week before opening. The gallery gave Ubel a floor plan of the gallery space and walls available to the featured artist. The decision was made to have a sampling of the different series and styles hanging in the long hallways leading to the entry of the main gallery space.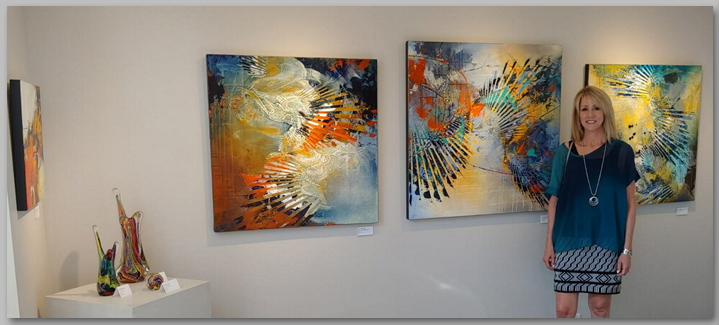 Once in the gallery, the main wall exhibits Ubel's most distinctive style that she refers to as her "Chromatrail" series. This series is still evolving and is gaining the attention of collectors and art curators. This is also the style that caught the attention of the owner and artists at Chapin Gallery.
The strength of her "Chromatrail" series is confirmed by increasing sales of paintings like "Kaleidescape" and "Winds of Change." Both were curated two months ago for a New York Yacht Club and boutique hotel. The original of "Kaleidescape" will hang in the hotel public area with artwork by a few other notable artists from across the country. "Winds of Change" was reproduced in a short run of fine art prints for four luxury cottages on the property. Ubel's painting titled "Star Struck" sold on opening night at Chapin Gallery.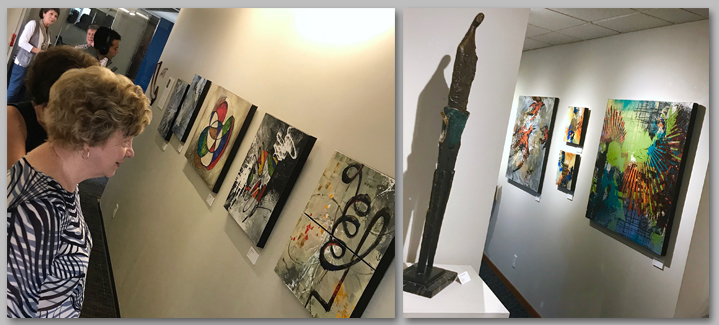 Moving around the gallery, one can explore samplings of Ubel's "Fretwork," "Black+ White+Grey" and "Abstract Expressionist" series. All collections have a different feel but are unified by rich texture and gestural marks that are typical in her paintings. Ubel said, "Artists can gain great perspective on their own work when so many pieces are in one space together like this. The variety of comments and questions that we get can help confirm the direction we are going which is all part continued growth."
Paintings by Lynette Ubel will be featured through the end of June. Stop in and you will also find outstanding sculpture, glass and photography by Chapin studio artists Dave Christiansen, Nicole Shulde and Cohagen Wilkinson along with other local and regional artists work. Gallery hours are Friday 1:00-5:00 / Saturday 10:00-5:00 / First Friday 5:00-9:00 and weekdays by appointment.
If you have a chance to see the exhibit at Chapin Studios and Gallery let us know what you think by leaving a comment below!