From Cave Paintings to Digital Installations: Exploring the Arts Continuum in Western Europe (Part II)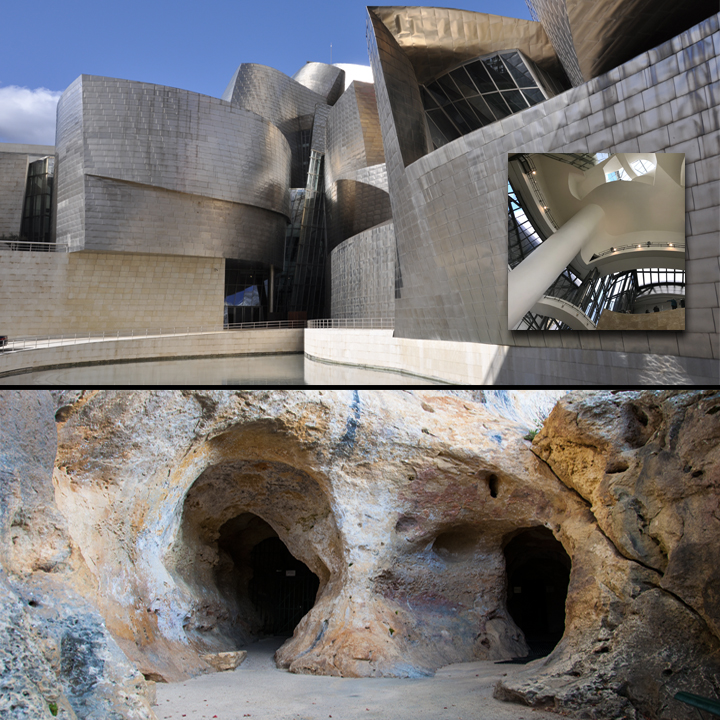 Pictured above: The Guggenheim Museum of Contemporary Art juxtaposed with the Vézère Valley caves in France. How can two places that appear so different have so much in common?
On a recent trip to Western Europe we explored the fascinating prehistoric cave paintings of southern France and then traveled south to the Guggenheim Museum in Bilbao, Spain. In this second of a two-part blog (read Part I here), I'll share a few of my "Ah-ha!" moments after exploring art produced by equal talent on opposite ends of time.
From Mankind's Earliest Art to the Most Contemporary of Our Time
After taking in the prehistoric cave paintings of southern France we headed to Bilbao in northern Spain to visit the Guggenheim Museum of Contemporary Art. Being an abstract artist myself, I couldn't miss the opportunity to see first-hand what is being celebrated in the best of contemporary art today.
The Frank Gehry designed building is a work of art itself and was a fabulous juxtaposition to the caves that we explored earlier in our trip. The caves and the Guggenheim Museum are completely immersive in their own unique art experiences. The exteriors of each are fascinating and draw you in, begging for attention at every angle. While the exterior of the Guggenheim is made entirely of glass and steel and the caves entirely of rock, both places contain art for the ages.
After entering a natural cave as well as a man-made museum, you become distinctly aware that you are in for a fully experiential day. I was very aware in these locations of the physicality of space and my place in it.
Traversing the Road Between Steel & Stone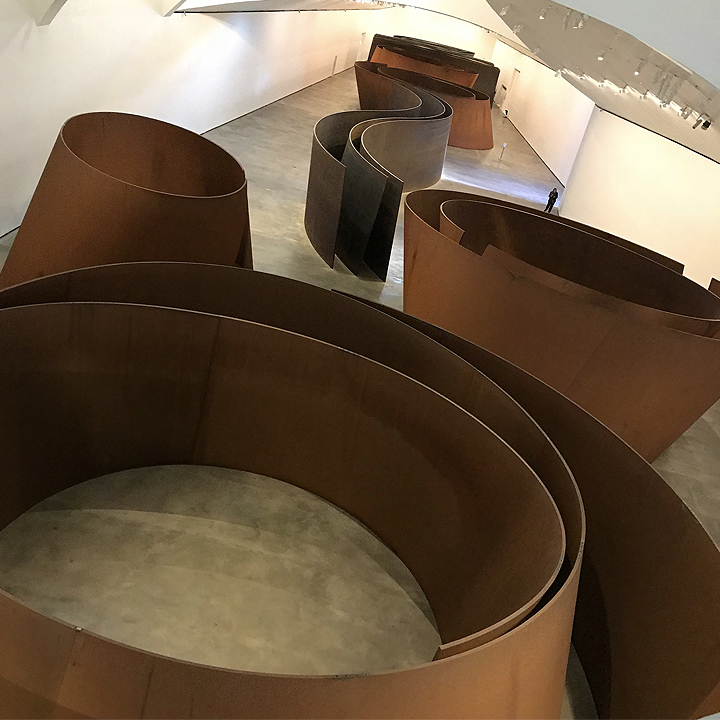 The first and largest exhibition hall in the Guggenheim holds eight massive steel sculptures by Richard Serra. Serra conceived the sculptures to induce a global experience that enables audiences to perceive themselves as part of the art. The shapes range from relatively simple yet enormous panels of steel ebbing and flowing together to very complex spirals that draw you towards their nautilus-like centers. Each art form towers over you, shifting in unexpected ways as you walk in and around them, creating a dizzying, unforgettable sensation of space, tension, and motion.
It was at this point, while walking into these curious steel shapes, that I realized I was experiencing the same feelings as I did while walking into the narrow, pitching, winding cave passageways to see the prehistoric cave paintings. This particular exhibit was a fabulous metaphorical bridge between cave paintings and contemporary art.
Digital Installations & the Lasting Permanence of Art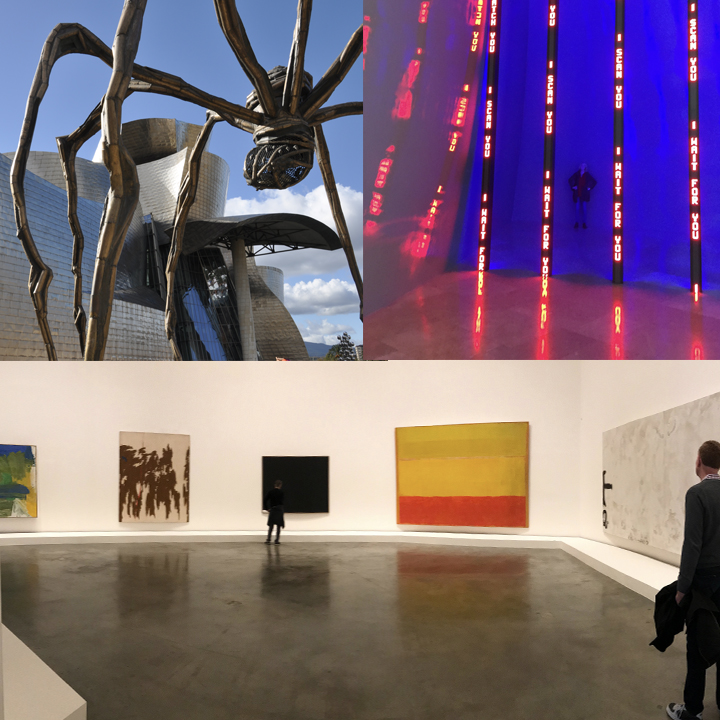 The different levels of the Guggenheim have breaks and passageways where you can take in the beautiful complexity of the building before entering the next exhibit hall. There was a digital art installation that was created as commentary in support of people in the fight against AIDs. While I thought the piece was fascinating to read and be a part of, the light form that is used to create this medium is not permanent enough for me. As an artist, I prefer to create work that has longevity beyond the dependence of electronics. This was probably higher on my mind since we had just seen art that has lasted for over 14,000 years. Don't get me wrong, I appreciate and applaud the artist, but my personal calling is to create work with more permanence than that created with pure energy that, when unplugged, goes away.
I believe artists learn as much about themselves as they do about the arts in general by exploring the work of other artists. We observe and appreciate then accept or reject styles and techniques that may influence our own art expression (to my point of digital art not being my personal calling). To take in work by artists like DeKooning, Still, Motherwell, Rothko and Warhol expands what you know about your own art, techniques and choices. One thing they all seem to have in common is the pure scale of their work. Most of the art is so large that standing across the room is the best way to really take them in before closing in for the details. I was thinking while looking at (and standing in) some of the art that I may need to get bigger canvases and a larger studio to ever have hope of being selected to exhibit at this level!
My "Ah-Ha!" Moments
When we planned our trip to the Guggenheim in Bilbao and the prehistoric caves in Dordogne's Vézère Valley, I expected to see some inspiring art to discuss over wine in the evenings. What I hadn't planned on were the "Ah-ha!" moments in:
Comparing the exteriors and how they equally pique curiosity before you enter them.
Realizing that museum walls and cave passageways are as fascinating as the art inside them.
Thinking about how artists then and now are equally expressive and talented with their materials.
Noticing that the size and scale of artwork in both places was a remarkable and unexpected quality.
While both of these areas in Europe are on the road less traveled when compared to the big cities like Paris and Barcelona, they both have an abundance of culture to share that I would highly recommend visiting. We expected the unexpected and we got it with an adventure that took us to two distinct places that are as alike as they are different.
---