Fine Art Prints: Drawing on Experience to Expand Artistic Reach
Comparing original art to fine art prints is like weighing fine jewelry up against costume jewelry. There are a multitude of reasons for adorning your space with the real thing, but there is a time, place and typically a budget that calls for fine art prints as well.
As someone who paints and owns both originals and prints, I can attest to the fact that I am much more attached to the originals because they hold the energy of the artist on the canvas. But making art accessible to people who may not be able to afford the original or to places that require different sizes or multiples of paintings, fine art reproductions are a nice alternative.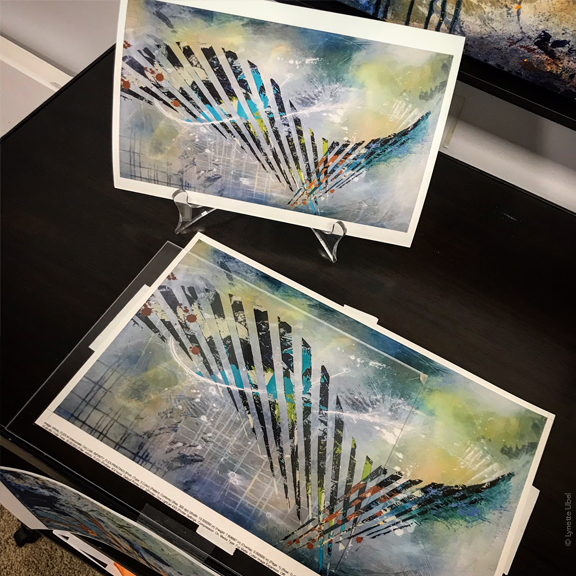 A well-done giclée, steel print or flex-print might serve industries such as hotels and businesses that require multiples of a piece for a number of rooms; allowing them to acquire original artwork for lobbies and common areas. Accommodating requests for prints like this can also benefit the artist by exposing them to new collectors and increasing awareness of their art.
EXPERIENCE THAT TRANSLATES
One of the most frequently asked questions I get is, "Do you wish you had gotten back into painting earlier in your career and not spent so many years in advertising, marketing and photography?" My answer to that is, "I'm extremely happy to have come full circle back into my painting, but my career in graphic design and photography has informed my art in so many ways that I have no regrets about the path I've taken to get here."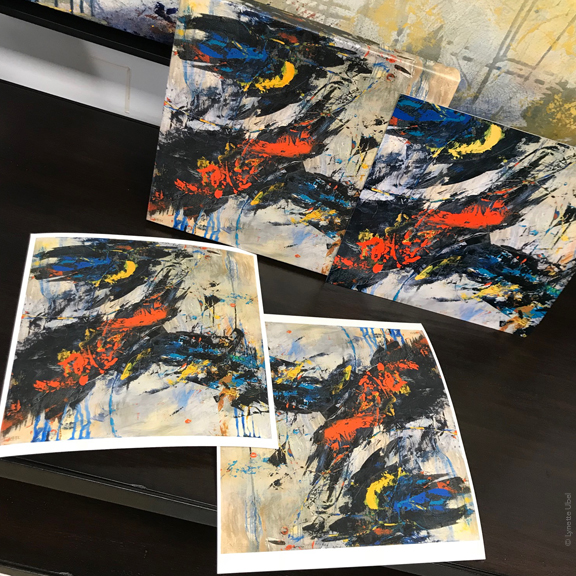 With 30+ years as an art director under my belt, color and design theory are ingrained in me to such an extent that I find it is expressed in my artwork regularly. With an extensive background in pre-press, print production, high-quality papers, archival inks, high-resolution photography, and photographic lighting, my years of experience can be drawn on to confidently shoot, order and offer fine art prints of my paintings. It definitely helps to have a fabulous nationwide network of clients and vendors to more quickly identify the fine art printers I feel good about working with.
SHOOT IT WHILE IT'S HOT
The painting is finished, edges are painted, UV varnish has dried and its time to capture the highest resolution image of your original painting possible. Whether you are selling prints or not, you'll need a great image file for your online presence and body of work archives.
It is best to stay current as you finish a painting and either shoot it yourself if you have the equipment and know-how, or send your work to a professional fine art photographer. Once the original sells it is gone forever, and you will lose out on the future sales potential of limited edition prints and reproductions of any kind. So, shoot it while it's hot!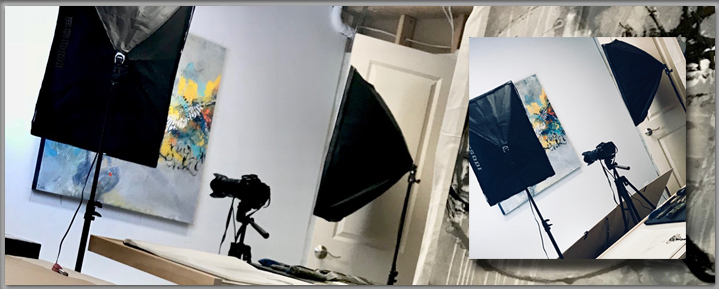 If you aren't a photographer or would rather have someone else shoot your artwork, there are companies like Dolphin Archival Printing in Kansas City, and Reed Art & Imaging in Denver that have handled photographic prints and some painting reproductions for me. Experts like these can capture incredibly high-resolution files of paintings that are crisp edge-to-edge and color correct the files to match the original exactly.
The downside of relying on someone else to shoot your work is the added expense and delay in getting artwork images recorded. Photographers prefer to shoot in batches and will often give artists a price break to shoot 10 paintings or more. For this reason one-off shots can be fairly expensive but still worthwhile to have a quality file on hand.
Also, waiting to photograph your art until you have a new stash of paintings puts you behind on getting new work added to websites and posted on Instagram and other social media channels. Plus, the good and bad news is that you might have sold a painting before the photographer is able to shoot it!
ORIGINAL VS. PRINT
Owning an original work of art is definitely worth the investment. There is nothing like the texture, color and energy in a piece created by an artists own hand versus a machine. But a few reasons why a limited edition giclée or quality reproduction might be in order are: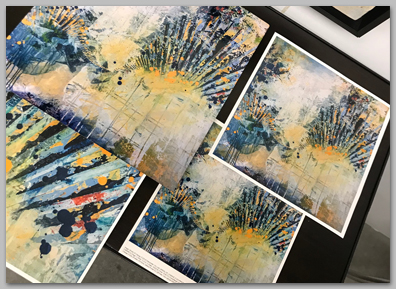 If the original is sold, prints may be available. Just ask the artist!
Your budget doesn't allow for original artwork and you can't stand blank walls.
The size of the original painting is too large or too small for a particular space, but you need that piece on your wall.
Multiple reproductions of one painting are required (i.e. hotel and hospital rooms).
Beyond the "original vs. print" question, there is the whole conversation about limited edition prints vs. open edition prints and investment lithographs vs. mass-produced prints. But that's a post for another day!
TO BE, OR NOT TO BE
I remember asking an artist friend who is doing exceptionally well in galleries nationwide if it's frowned upon to offer well-curated reproductions of our work and if it dilutes what we are doing as artists. Her response was, "You can get the Mona Lisa on a coffee mug and that does not make the painting any less valuable." To that point, I decided to make my art available by personally controlling high-quality edition prints employing my extensive knowledge of printing processes.
Are you an artist that embraces the possibilities to expand the visibility of your art via reproductions? If so, do you draw the line at, "I only sell limited edition prints," "I personally control open edition prints," or, "I want the world to have it on anything they want it on so let the licensors have it."? Let's start a conversation below!