Gallery News: Where to Find My Artwork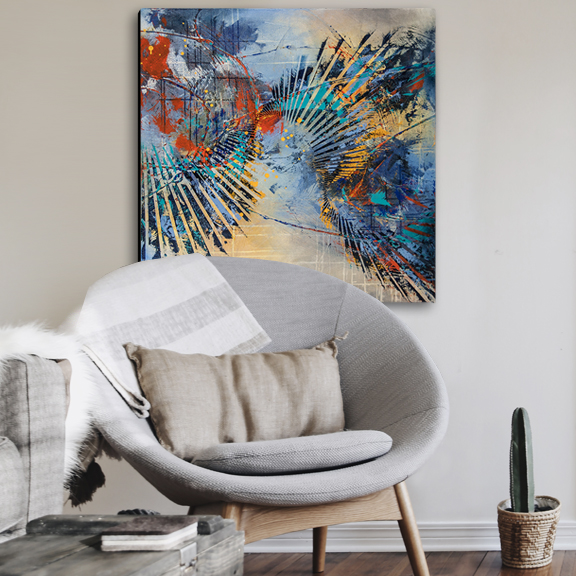 Three art galleries currently represent my work. Between those three galleries they hold a total of twenty-nine of my paintings in their Missouri, Kansas and Illinois locations. In addition to those paintings currently available through art galleries, my studio inventory holds an additional fifty paintings for a total of seventy-nine artworks available for residential and commercial sale.
Many people ask where they can see my work in person, so in this post, I will share more about the three galleries I currently work with as well details about two upcoming solo exhibits and one collaborative show.
SOLO EXHIBITS
In the months of June and August I look forward to opening solo exhibits in Kansas City, Missouri and in Lincoln, Nebraska. The first solo exhibit for 2019 opens on First Friday, June 7 at Chapin Studios and Gallery in Lincoln, Nebraska. I am creating new paintings now that will hang with some of my current studio inventory for this show. I will take twelve to fifteen pieces for the exhibit depending on overall size. This will be the first introduction of my abstract artwork to art patrons in Lincoln and the surrounding areas.
Chapin Studios and Gallery provides patrons with the opportunity to enjoy a variety of exceptional local and regional art. Along with artists they represent throughout the year, they bring in guest artists like myself. Their goal is to provide Lincoln with a diverse variety of artwork by rotating fresh work into their gallery on a regular basis.
The second solo exhibit will be at Hilliard Gallery in Kansas City, Missouri. The opening for this show will be First Friday, August 2. This gallery represents my work throughout the year and has honored me with a takeover of the front three gallery spaces for this exhibit.
The month of September will see my work from this solo exhibit rotating to the back of the gallery. Then in October, the front gallery space will be filled with artist collaborations. This exhibit will include two collaborative pieces created by Jennifer Walker and myself.
HILLIARD GALLERY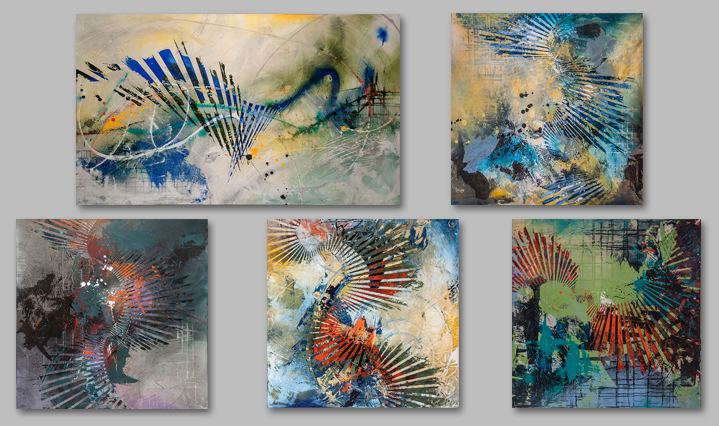 The Hilliard Gallery is an elegantly urban and ever changing art gallery. They are located in the Crossroads Arts District of Kansas City and, on the first Friday of every month, they open their gallery to hundreds of art-loving patrons in KC. Because of this First Friday event USA Today considers Kansas City to be, "One of the hottest art markets outside of New York City." Hilliard Gallery maintains one of the most eclectic, aesthetically pleasing, and well respected venues for artwork in the Kansas City area.
They take extra time with their clients in their efforts to find that special piece of art for their home or art collection. The Gallery can also help with the maintenance of artwork, preservation, custom framing and international shipping. Hilliard Gallery represents and showcases some of the most exquisite artists and their work year round and I am happy to have my artwork in the mix.
STRECKER NELSON WEST GALLERY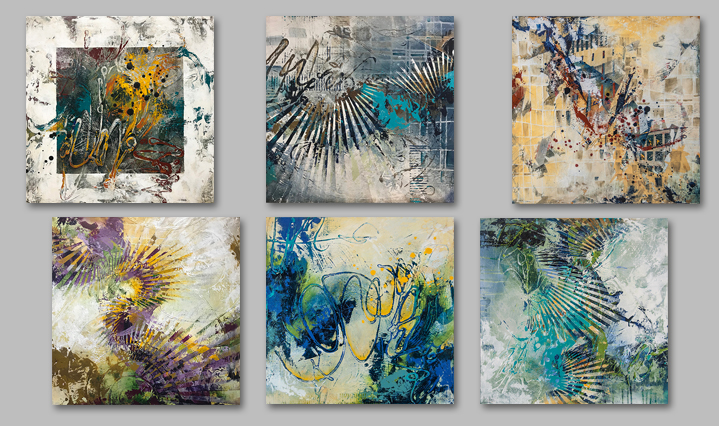 Strecker Nelson West Gallery has been a part of downtown Manhattan, Kansas for 38 years.  The Gallery represents the finest artists in Kansas and the midwest. The artwork here comes in a variety of mediums, including painting, print, drawing, mixed media, sculpture, ceramic, glass and photography. My acrylic paintings have been represented by SNW Gallery since 2017. It is a beautiful gallery that curates special exhibits that appeal to both seasoned and emerging collectors.
It has been a pleasure to work with them. The owners, Alyn Pennington West and Kevin West, make a point to arrange an artist's dinner with them after each of the show openings. This dinner tradition has created a wonderful community for the artists they represent. As a result, many of us have become friends as well as having a better connection with the gallery owners themselves.
THE LEIGH GALLERY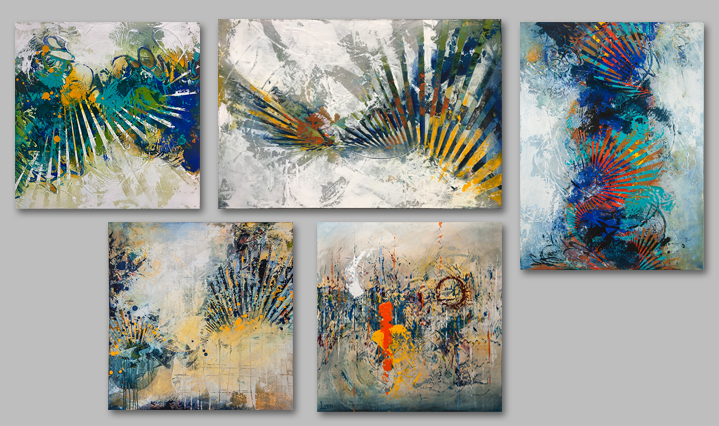 The Leigh Gallery was established in 2005 and is set in the heart of Lakeview on Chicago's Northside. The neighborhood this gallery is in is a wonderful, colorful mix of people and buildings that draw an international crowd. The Leigh Gallery represents local Chicago artists just around the corner from the gallery doors and artists, like myself, from a variety of states across the country.
This gallery has a unique business model in that they are one of the only galleries in the city that provide art for lease to the many television shows and movies that are filmed and produced in Chicago. The network art handlers come through the gallery four times a year to select artwork to be installed on the sets of shows like "Chicago Fire", 'The Chi" and "Suits." One of my paintings was placed on set for "The Chi" and the exposure for my artwork is priceless.
GO DIRECT
Many people think that if an artist is represented by a gallery that only the artwork in the galleries is available. That is not the case, especially with artists like myself that keep a large selection on hand at my studio. In looking through my painting portfolio you will see a variety of works available beyond what you find at the galleries. The pricing is similar across the board, so shoot me a message or give me a call and I'll send you a link that will filter out what paintings are available where!
As an art buyer, do you prefer to buy your art from a gallery or directly from the artist? If you're an artist, do you like to sell work in galleries, online or at art fairs? Let me know in the comments below.