The Big Picture: Support for The Arts is Vital to Community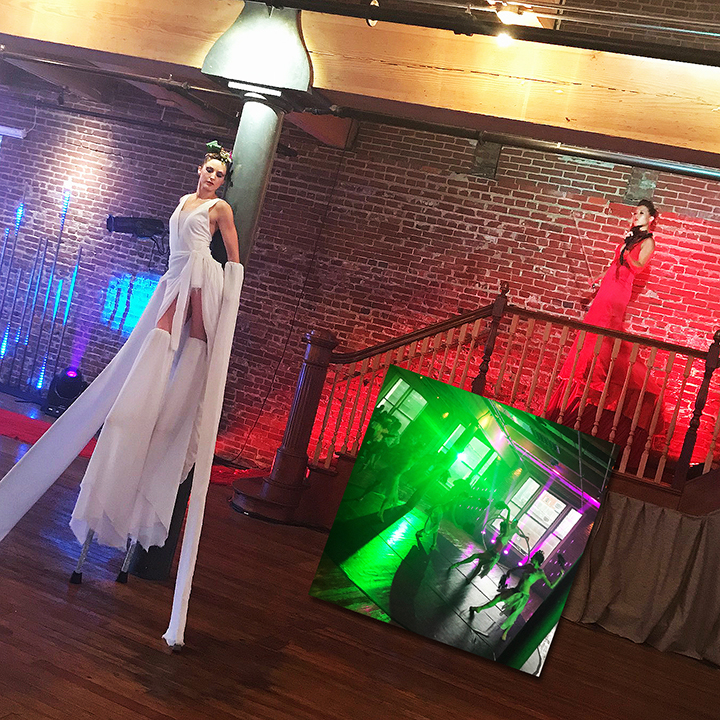 There is something curious about the sharing of creative expression that opens our minds and enables us to appreciate the unique qualities in others. The arts unify our communities regardless of age, race, and gender, helping people to understand other individuals and cultures better. In this post, I'll share some recent opportunities I took to support the arts and other artists by attending two fabulous community events.
One event was a fundraiser for the Quixotic Foundation that supports Quixotic Cirque Nouveau. Quixotic is a spectacular internationally renowned performing arts group. The other event was First Fridays in the Kansas City Crossroads Arts District, which is a free gallery open house and street party celebrating artists and art of all kinds.
THE FUSION OF COMMUNITY
Let's just say up front that if you have never heard of Quixotic, you're missing out, so I must make a brief introduction. Quixotic is an innovative performance art collective that fuses imagination with technology, dance, and live music to create fully immersive, multi-sensory experiences. They are a Kansas City-based group that has performed for audiences worldwide and were billed by Men's Journal as, "One of the best contemporary [cirque] acts of their time." Quixotic harnesses light, rhythm and expressive emotion and is a treat for the senses.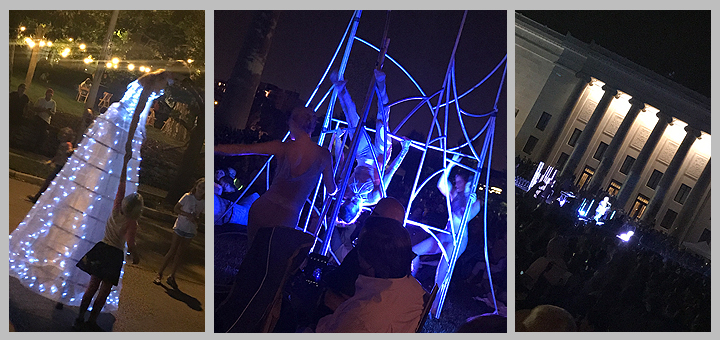 When their talented troops are not traveling the globe, they perform at community events like the annual Waterfire Kansas City, which is held in the fall on the Country Club Plaza and bi-annually at Surfaces at Nelson-Atkins Museum of Art. The Quixotic Foundation, which is the non-profit partner of Quixotic Cirque Nouveau, supports these free, local performances. The goal of Quixotic Foundation is to inspire, educate, and unite our community by making performing arts accessible to all…which they have successfully done time and time again!
A MASQUERADE BALL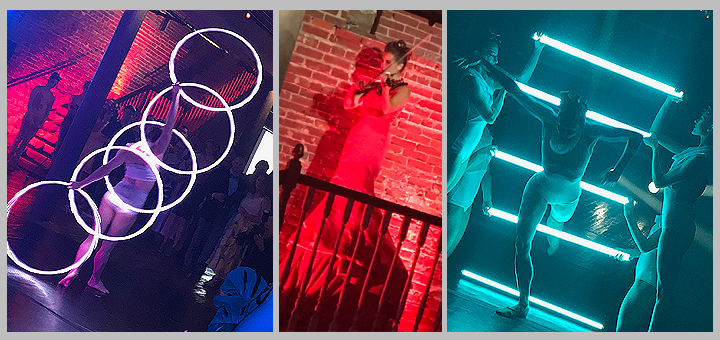 I'm always on the look out for fun things to do around town, and quite often they involve art, food and drink. When I saw the event billed as Masked, offered by Quixotic Foundation, I was in! There would be an eclectic mix of people (masked and unmasked), performances by Quixotic, food, drinks and a silent auction. Not only was it a funky fun event, but the ticket price also went towards Quixotic's free community performances and free educational workshops for underprivileged kids. This was the first year for the Masked event and while they have things I'm sure they learned from the launch of Masked, the concept was spectacular and is sure to grow into something special. I'll be back next year!
HIT THE CROSSROADS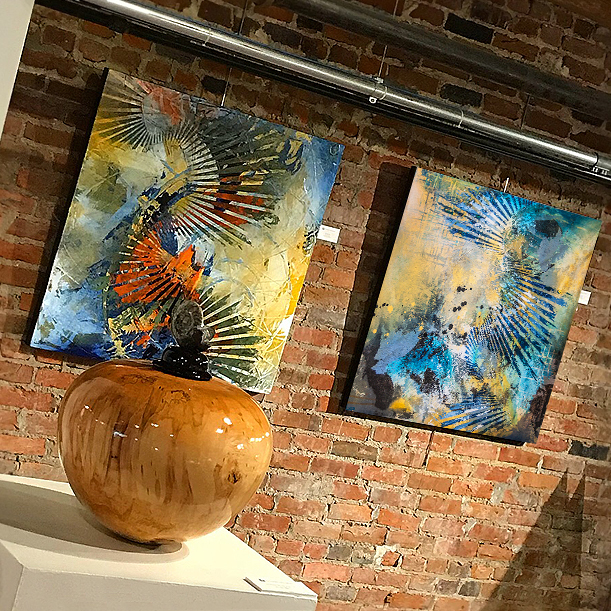 The Crossroads Arts District is Kansas City's creative neighborhood, which hosts First Friday's year round. While this eclectic enclave might see more than 10,000 visitors wandering in and out of galleries and restaurants on a warm summer day, you should know the fun does continue throughout the year.
Follow the sidewalks past boutique shops, one-of-a-kind restaurants, food trucks, art galleries and artists on the streets selling their creations. The fabulously diverse crowd is wonderful mix of artists, art lovers and people who just want to be part of this colorful community event that exemplifies the city's support of the arts.
For me, the first stop, during First Friday's in July, was Hilliard Gallery which had a new show opening titled: "Raised on Promises" by artist Jim Norris. The front gallery space is always filled with the opening artist's show. Beyond the front gallery are different pockets of space with a tremendous variety of artwork including my own abstract paintings. Hilliard Gallery is not the wide-open "white box" type gallery. Instead, it is like the neighborhood it resides in offering unique art environments around every corner that showcase work. After exploring the various galleries and shops, we headed to one of our favorite Crossroads restaurants for some tapas and music to round out the night.
There are entertaining fundraisers to support the arts by paid admission, but equally important is just showing up to mingle with the community at the free events. You'll be amazed the people, art, and places you'll get to enjoy!
Have you tapped into the art happenings in your city? Share your favorite events below!