My Small Canvas Challenge: ArtsKC 10×10 Smallworks Showcase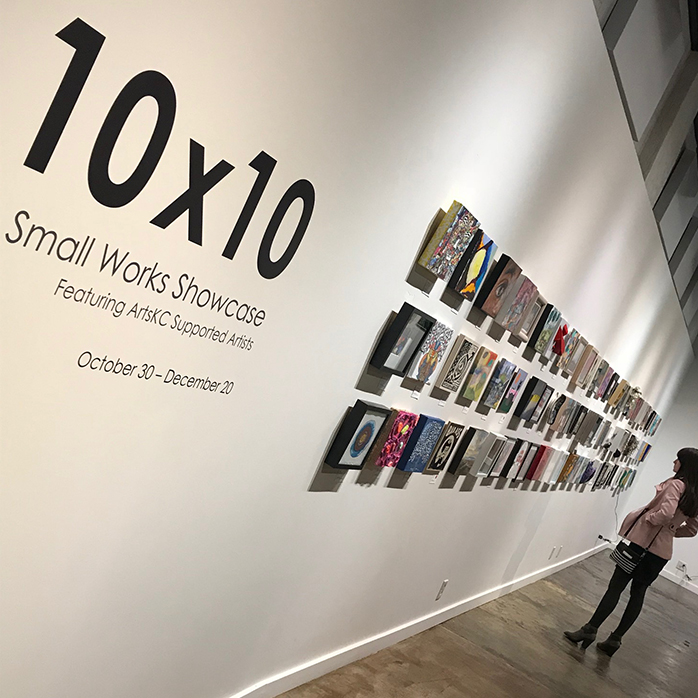 As an artist that works on canvases that are 36"x 36" and larger, it was a unique challenge to think about an entire painting on a single 10" square panel. Every aspect of the work from start to finish is scaled back from what I'm used to working with: smaller brushes, less paint, tiny sponge, a dab of medium, mini composition and (maybe) much less time. When I heard about the ArtsKC Smallworks Showcase I entered as much as a test to myself as I did to be part of yet another fabulous exposure and sale opportunity that the ArtsKC – Regional Arts Council offers it's artists.
First About the Show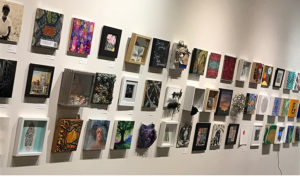 ArtsKC is featuring over 150+ original works of art from Kansas City artists that have been supported by ArtsKC through the Grant-Making program and the Now Showing program. All art in the exhibition is 10"x 10" and priced at $250.00 or less. The show opened in October and continues through December, 2017. (Unsold work will remain through December '18). The linear design of the exhibition along with the consistent sizes of the art make for a seriously striking show. Walk by the front windows of the ArtsKC Crossroads location and the art inside appears to be one long colorful mosaic. Step inside the gallery and you see an incredibly diverse collection of art representing every style imaginable. It's awesome to see what everyone else did with his or her 10"x 10" piece!
I personally have been part of the ArtsKC Now Showing program, which pairs artists with corporations for quarterly solo exhibitions in their office gallery spaces.
Back to the Tiny Painting
I don't keep canvases that small in my studio, so with the deadline coming up my next art materials order included my first mini canvas. Normally I order multiples of everything, but in this case I only ordered one 10"x 10"… I was that unsure about how I would like working in that size. My large paintings are 1.5" deep, so I kept that consistent in case they ever hang together.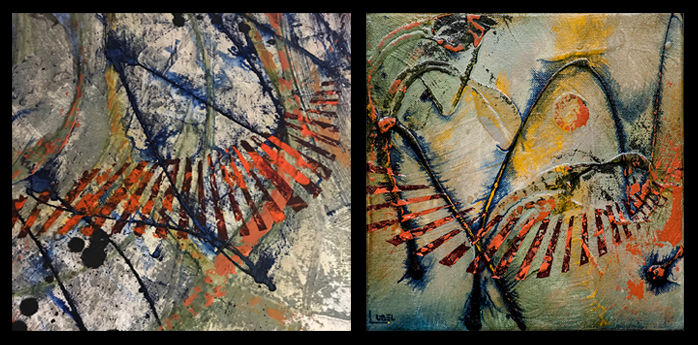 As long as that art supplies order was still out I could put off thinking about how I would handle this self-imposed challenge. The delivery came in and I had to deal with it, but how? After setting the blank canvas aside for a few days with me staring blankly back at it, I realized something. I very often post detail sections of my paintings on Instagram. I pulled a few of my favorite paintings out, stood back and started cropping detail sections of them visually with my hands. I really like this section of my painting titled, "Many Ways To Get There" (which is now at the Leopold Gallery) so I used that for inspiration.
My finished painting titled, "Bridging The Gap" and the detail weren't intended to be copies of each other…just tools of inspiration. But, you can see similar line work and composition, which was enough to get me moving on this mini creation.
Retrospection
I had fun doing it, I learned a lot and I've gotten great feedback on it. One gallery owner told me she would like to see me make some smaller pieces available (smaller than 36"x 36"), so if collectors are interested they can decide which price point and size fits them best. I'm not sure I'll make it a practice of painting this small but because of the ArtsKC Smallworks Showcase I will be expanding my body of work to include some smaller paintings as well as some 40"x 40" and larger.
Of course, always a win when you step outside your comfort zone! I want to hear how you've stepped outside as an artist…leave a comment below!