Book Design: An Extension of Creative Vision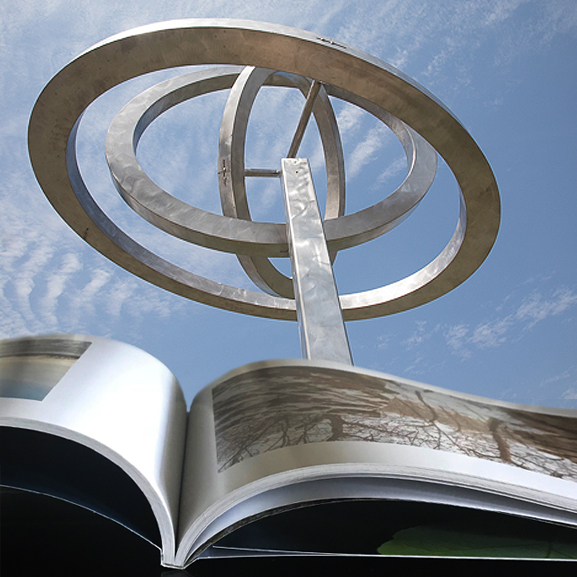 Most artists take their creative energy out in multiple ways (see previous post). In my studio when I'm not painting, fine art quality book design fills one of those creative gaps and leaves me with a permanent piece of art in book form! In this post, I'll share some details on the kinetic sculpture book I'm designing for The Overland Park Arboretum & Botanical Gardens as well as give some insight on what goes into the creation of a book.
A BOOK IS MORE THAN ITS COVER
When people find out I design books the first thing they typically say is, "So, you design book covers…cool!" Well, there's more to a book than just the cover. Book design is about weaving images and text into one aesthetic, and creating a cohesive collection on every page…start to finish. The end result should be a reflection of the author's vision.
If it's a fine art book for an artist, photographer, gallery or museum it should be a reflection of the artworks inside and become a bound work of art in its own right.  Each project is approached as differently as the art and content that will be found inside. If the art in a book is clean and contemporary, like the kinetic sculptures I'm working with for The Overland Park Parks & Recreation Foundation, the chapter titles, page numbering, fonts, color selections and bindery are best designed to compliment that look and feel. My goal is to get to know the author, publisher and content well enough to capture the book title's beauty and soul on every page.
WHIRLWIND: ART IN MOTION
When I got the call to design a book for The Overland Park Arboretum & Botanical Gardens' new kinetic sculpture exhibit, I knew it was right up my alley. I love designing books of all kinds, but near to my heart are books in which art is the main visual. Very often a book like this is referred to as an "exhibition catalog" and available in gift shops as long as the exhibit is installed. These books are expected to be aesthetically beautiful and designed in a way that does not upstage but compliments the art.
This book titled, "Whirlwind: Art In Motion" is a celebration of twelve kinetic sculpture installations created by different artists from across the country. It is part of a special exhibit at the Arboretum and one not to be missed. The sculptures will remain installed through September 30, of 2019 and are the perfect example of how art, science and nature can merge in a perfect setting. The gardens are already a special place and with the grace of steel sculptural forms blowing effortlessly in the breeze, and changing with the light, it is a particularly beautiful place to visit!
The artists featured in "Whirlwind: Art In Motion" include:
Tom Brewitz
Lin Emery
Jeff Kahn
John King
Jeffery Laudenslager
Evan Lewis
Ralfonso
David Seitzinger
Meryl Taradash
Rein Triefeldt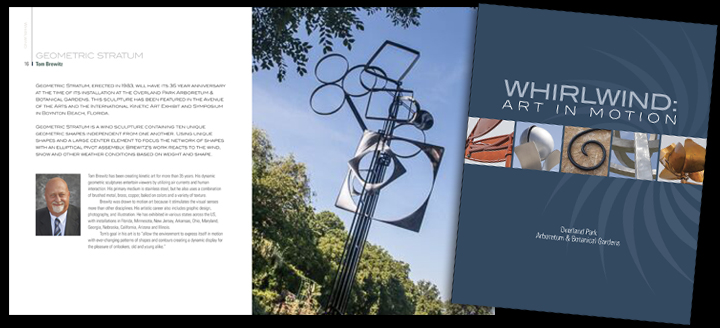 Since the majority of the sculptures in the exhibit lean towards contemporary, I used sans-serif fonts throughout. The use of blue on the cover is a nod to kinetic art that is dependent on air with sky as its backdrop. I've used five tightly cropped details of the various sculptures as graphic "teasers" on both the front and back covers. This gives a hint as to what's inside without "giving away" an entire sculpture to the cover and favoring just one of the fabulous artists.
With budgets considered, the book is designed as a soft cover instead of a hardbound book. To give the book extra "weight" and an artistic feel, the front cover is designed to fold out with a full bleed image of one of the sanctuary's seating areas in the gardens. This serves as an enticing lead into the grounds that the sculptures are set in.  I use my creative and technical knowledge to take books from design, through traditional print as well as into the growing e-pub market.
Have you been to The Overland Park Arboretum & Botanical Gardens or any other "nature gallery" lately? Have you seen the mesmerizing beauty of kinetic sculptures in motion? Share your experiences below.