Creativity: Unleashing Your Creative Self with Variety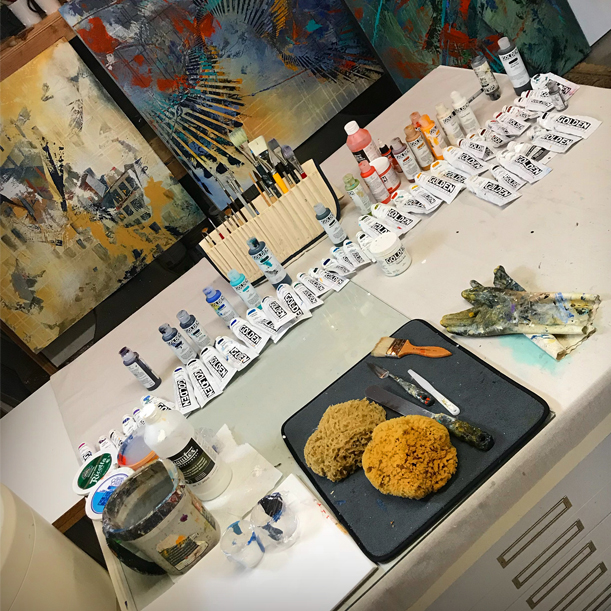 Even creative people can't be creative 100% of the time. There are moments of greatness when ideas and inspiration just flow. Then there are days that feel like every thought you put out there turns to mud like the wrong colors running together on your palette. To help stay inspired I keep my hands in several creative outlets. When I'm just not "feeling it" with one design project or painting, I can shift gears and still feel productive. In this post, I'll share a few ways that help me stay out of a rut and on a roll.
GIVE IT A REST
In talking one day with a professional advisor to artists and art galleries, I mentioned that in a perfect world I would be so busy painting and selling my artwork that I could gear down the graphic design that I have done for over 25 years. He said, "Are you sure that's a good idea? I would think being able to set a painting aside to focus on something creative yet different, like your book design, would actually help your artwork develop."
We all need to give it a rest occasionally and, to his point, there are times when I get stuck on a painting. Setting it aside to revisit later and allowing it to "cook" overnight can make the next paint stroke clear by morning.
I am always surprised at how stepping away from a project can change the way you perceive it. My favorite quote, probably because I've seen it in action is: "When you change the way you look at things, the things you look at change."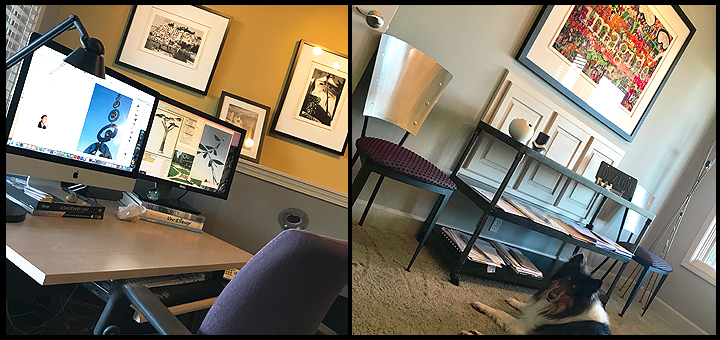 The same thing happens in the book design side of my studio that I call my left-brain art space. While book design is still a very creative business, it has a bit more structure and linear order to it than free-flowing painting does. If I'm working on book files for a long time and feel like I'm getting bogged down and inefficient on my computer I get back to the right-brain side of my studio and throw some paint! Next time you get to a point where you are so close to what you are working on that you can't see what's next remember…. step away from the art and give it a rest.
TAKE A SHOT AT IT
My other creative outlet is photography. When I get a chance to divert from designing books and painting I grab my Nikon and go. Not my phone…a real camera! There is something about using a professional camera rather than a phone that enhances what you see and elevates your inspiration to capture it through a quality lens. My photographic images are generally outdoors and reflect my love of architecture. All of them are a blend of organic natural forms living in harmony with manmade structures and buildings.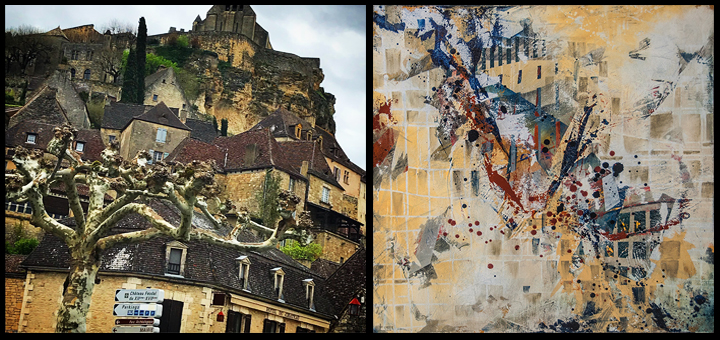 My photography, as it turns out, seems to be showing influence in some of my paintings. The merging of organic and linear has started to make an appearance in my artwork. I noticed this trend and attributed it to my graphic design background with linear and organic shapes. When I compared the above photo with a painting I had just finished, I realized how much what goes on inside of your studio is affected by what you do outside of it.
Dabbling in multiple creative outlets can inspire and refresh the way you see things. If you are strictly a painter, photographer, graphic designer, etc., I suggest trying your hand at a different artistic medium when you are in a rut; it might be exactly what you need to break whatever is blocking your creativity. It also never hurts to pick up a new skill!
What creative diversions have you found that take you away form your normal routine and improve you as an artist or creative individual?