Collector & Artist Relationships: Ways to Build and Improve Them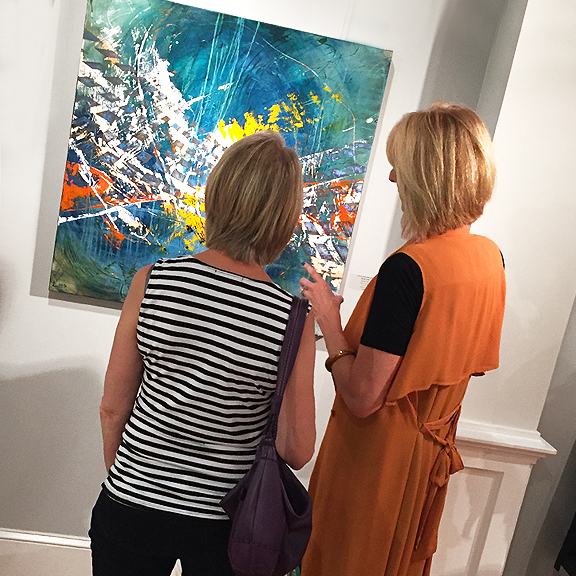 Social media has expanded the reach of artists, which has collectors and artists connecting personally more than ever in the history of art. Different ways of connecting are evolving quickly, but the basic rules of the game remain inherently unchanged.
As with most aspects in society, the quality of the relationship between two parties is perhaps the single most important factor determining a successful connection and mutual satisfaction. In the art world, artist's want their work seen, appreciated and purchased. Collectors want to discover art they love, appreciate and can invest in. In this post, I'll share a few ideas and little-known facts for improving both sides of this artfully co-dependent relationship.
NOTES FOR ART BUYERS
Art Note #1: Art buyers and collectors may not realize what a treat it is to for an artist to get to see first hand where their art has gone to live. Usually, once someone has selected a piece of artwork, the artist hands their beloved "baby" over and never lays eyes on it again.
While it's not always possible to invite an artist into your home or office after your new artwork has been installed, try shooting a quick photo from different angles and sending it back to the artist or gallery you purchased it from. Receiving images of artwork in new environments is highly appreciated and helps the artist understand their collectors and the types of spaces their work is being selected for.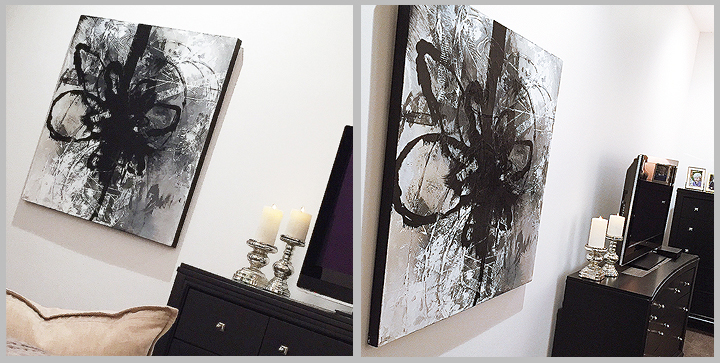 Art Note #2: Follow your favorite artists and support them not just with sales but with your presence at their future exhibits, shows and art fairs when possible. As owners of their work, collectors are golden to the artist in many ways, but most importantly the words of enthusiasm about what collectors see in the artist's work and why they are the proud owner of an original motivates us to become better and more creative. Word-of-mouth not only helps the artist grow their collector base, but name recognition can also increase the value of the work that has been purchased in the past.
Art Note #3: Stay connected with an artist after the purchase so you are privy to what's new in the studio and have first shot at future works that will be of interest to you. Having multiple pieces by the same artist can unify a space and give it a great visual voice. When you stay in contact, you'll also be the first to know if this artist begins to receive international acclaim which also helps boost the value of original artwork you own by them!
At the time of sale make sure you get their full name, studio address, phone, and website information and tuck it behind the painting, so it stays with the piece. Additionally, stay connected with your favorite artists by following them on social media like Instagram, setting up a Google Alert for their name or simply subscribe to their newsletter if they have one…just ask, or you'll never know! (My newsletter sign-up can be found at the bottom of the home page.)
TIPS FOR ARTISTS
Tip #1: There are many of artists out there that would rather stay in their studio and do their creative thing, not to be bothered by the people wanting to give them good money for their artwork. Resist the urge to shy away! Get out there as often as possible to gallery exhibit openings, First Fridays, art talks and networking events to meet the people…your customers!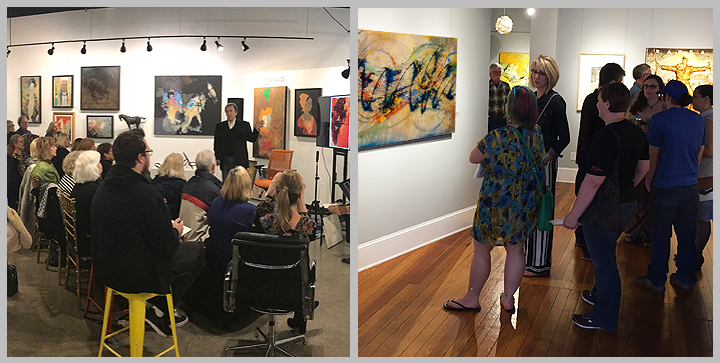 I can't tell you how many times I've had an encounter at an art exhibit that has turned into a sale because of just a few insights I have given about my process or what I was thinking when painting a particular piece. Just as the title sometimes sells the art, the artist sharing insight into their inner world creates thoughtful connections that buyers resonate with when they consider purchasing your work.
When a collector knows the artists personally they feel more committed to their future progress, may be inclined to follow their career and will be able to share their enthusiasm about your work.
Tip #2: Be open to inviting collectors and buyers into your studio space for a look behind the scenes. Seeing an artist at work is intriguing for people who aren't regularly a part of that world. Think of the crowds that are drawn around artists painting in public places. People are naturally interested in seeing how and where we work, so let them in!
A side benefit of inviting collectors to your studio is the instant access you can provide them to all the artwork being stored in your space. Seeing a painting first hand in the artist's studio can close a deal faster than any online post.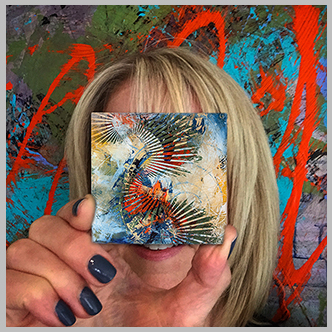 Tip #3: Make it easy on buyers to find you by having a business card available everywhere you go! Too many artists think their social media presence is enough and people can simply find them online. While talking with Tom Corbin after a recent art gallery talk, he asked me for my business card. When I handed it to him one of the things he mentioned was how many of the younger artists don't see the need for cards at all and how refreshing it was that I actually had one to give him. Artists without cards are missing a huge opportunity to send people home with a little sample of artwork in their hands. After all it's an art biz expense, so why not have one!
What have you found as an art collector that you wish artists would do or provide you with? As an artist, can you add some little known facts that you wish art buyers understood? Leave tips you would like to share on how we can elevate the artist/collector relationship below!