Lynette Ubel's Painting
Flying Colours

Soars onto the SHOWTIME Series

The Chi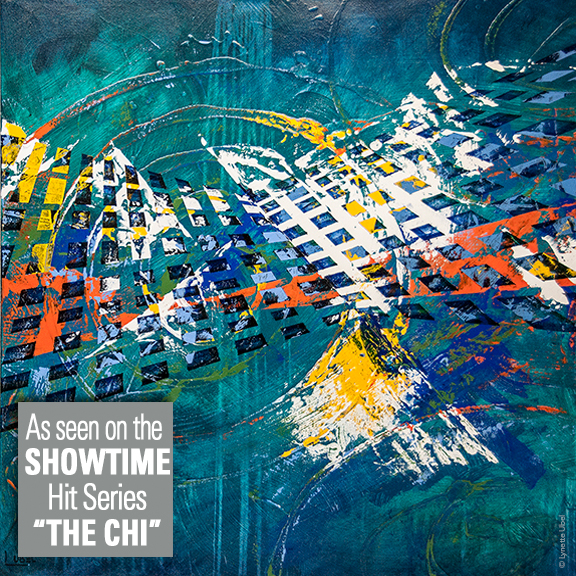 Original painting, Flying Colours by artist Lynette Ubel has made its way onto the set of the SHOWTIME series The Chi.
"To have my work appear on a hit TV series that is all about Chicago brings my artwork full circle back to The Windy City that sparked my interest in the Arts." – Lynette Ubel
Artist Lynette Ubel's painting, Flying Colours, was recently selected to appear on the set of the hit SHOWTIME series, The Chi. Ubel created Flying Colours after she visualized a sister piece for her painting titled, Off the Grid (pictured below), which at that time was hanging in an art gallery outside of Kansas City. Flying Colours was created with slightly more intense color than it's companion piece. A white bird emerged in the background of the composition which inspired the title Flying Colours.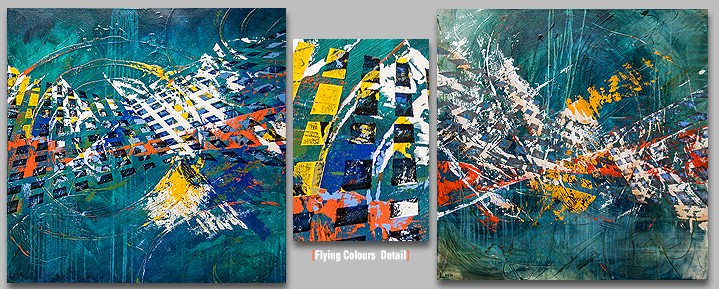 The Chi, created by Emmy® winner Lena Waithe, starring Jason Mitchell, Jacob Latimore, and Tiffany Boone, is a coming-of-age drama centered around a group of residents that live on the South Side of Chicago. The characters experience a series of fateful events and become connected in unexpected ways. Ubel, ironically, has her own connections to The Windy City.
Lynette spent a part of her childhood in Palatine, Illinois, a suburb of Chicago, "I grew up taking field trips to the downtown Art Museum's only to come home and paint from memory what I had seen that day. The Chicago Symphony Orchestra inspired me to take up the flute which I played for many years." Ubel says, "The city, as a whole, made a tremendous impact on me and my impression of the Arts at a young age."
Although Ubel is now in the Kansas City area she has a history of selling art in Chicago, but not in the way you would expect. Her neighbors knew her well when she was a child. Every few weeks Lynette would collect the drawings and paintings she had created and sell them door to door for a quarter. When her artwork found it's way back to Chicago via The Leigh Gallery, it occurred to her that she should let all those neighbors know that she's back, caveat being, that the paintings are a little bit larger and cost a bit more.
In 2017, soon after it was painted, Flying Colours was on display at the Leopold Gallery for several months. In April 2018, it was back in Lynette's possession for only a few days before it was selected along with four other paintings to be represented under contract with The Leigh Gallery in Chicago. Upon meeting gallery owner Jean Leigh, Lynette knew that The Leigh Gallery was the right place for her work. When talking about Jean, she says, "Her colorful attitude, business sense and art style was a perfect fit for my paintings. She and I work together very well and have sold artwork and collaborated on a commission for one of her collectors. That commission came about in the first week of my work being installed in Jean's gallery."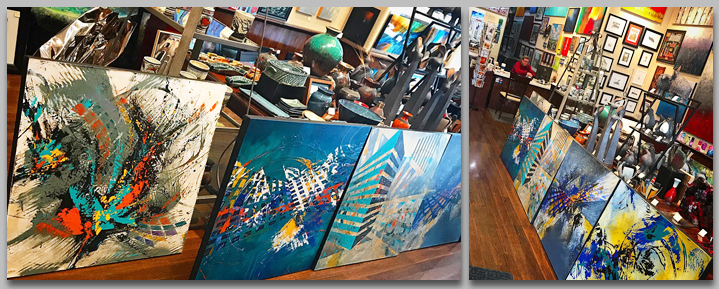 Flying Colours is a 36"×36" acrylic painting on cotton gallery wrap canvas. Ubel used a series of techniques to create Flying Colours. She utilized her signature texture-heavy layer of gesso as a base, colorful blends of acrylic paint, and a number of palette knives and other tools to manifest the striking depth, form, and texture you see in the painting. Rather than having Flying Colours put into a traditional frame, Lynette painted the outer edges black so that the piece can hang unframed for the sake of simplicity and beauty.
Lynette's painting and photography works have made their way into several art galleries, a corporate collection, iWerx entrepreneurial development center, a one-woman museum exhibition, offices, and private homes, but this is the first time her work will be seen on the BIG screen.