Lynette Ubel Art Now on Display at Leopold Gallery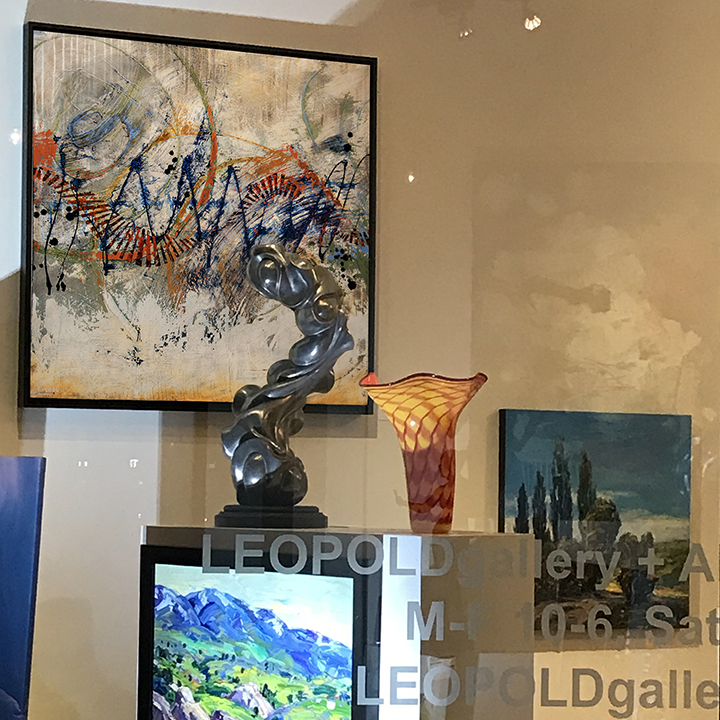 Oct. 27 marked my official debut at the Leopold Gallery in Brookside. I am beyond thrilled that Leopold Gallery has selected a few of my pieces to exhibit in their Lower Gallery. One of them also happens to be hanging in the front window as you walk in! In other words: things got off to an incredible start.
That night, Leopold Gallery hosted a fabulous Artist's Reception complete with food, drink, and plenty of socializing with artists and art-lovers alike. It was so great to be featured as part of this outstanding community of artists who were being celebrated that evening. I couldn't have asked for a more amazing start to my working relationship with Leopold Gallery. Read on and discover more.
Surrounded by World-Class Contemporary Artists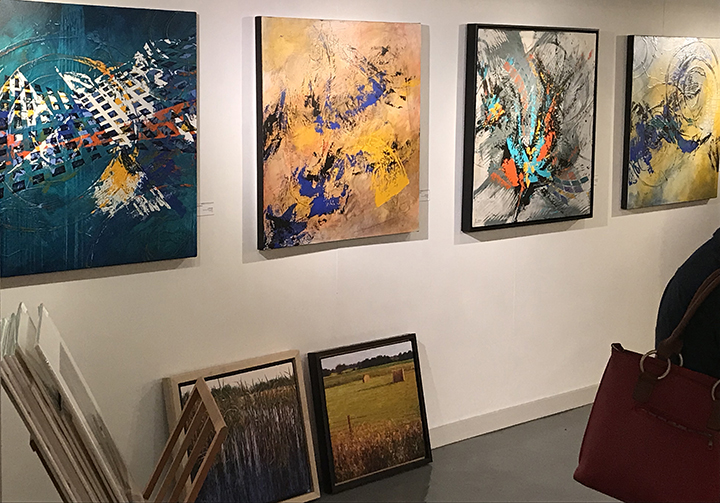 The Leopold Gallery has been a gallery I've admired for many years. Its unique mixture of fine art plus their work in commercial art consulting has always intrigued me. I've long aspired to have my work featured there alongside so many other colorful, well-respected artists. I am so honored to have my work in the mix with amazing featured artists Jane Pronko and Brad Teare.
I have to give a shout out to fellow Leopold Gallery artist Nancy Teague, who not only mentioned me on her blog recently, but has been a supporter of my own work since we met and connected. Nancy is just wonderful and I truly appreciate the rapport we've established. Be sure to check out Nancy's work on the 1st Floor when you visit.
Where You'll Find My Work in the Gallery
When you enter Leopold Gallery, you'll first see one of my pieces, Many Ways to Get There, displayed in the front window face to the left of the entrance.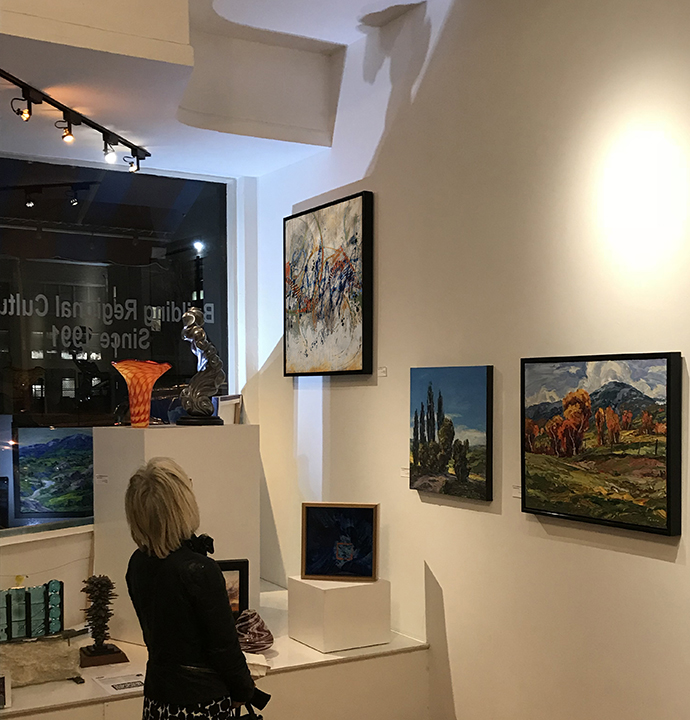 Many people don't realize this, but Leopold Gallery has a Lower Gallery. You can't miss it! Just look for the "hole" in the floor (an acrylic window on the 1st Floor that gives you a birds-eye view into the Lower Gallery).
Leopold Gallery has selected the following six of my abstract acrylic paintings as part of their fine art offerings:
Flying Colours
Method Behind the Madness
Feels Like Gold
Many Ways to Get There
Meet in the Middle
Super Conductor
All of the paintings are 36×36 acrylic on cotton gallery wrap canvas, two of which are framed. The unframed pieces have finished black painted edges and can hang as they are with beautiful simplicity. Each of them have a UV varnish coating that seals and protects them.
Where You'll Find Leopold Gallery
Leopold Gallery is located at 324 W. 63rd St. in Kansas City, MO, about a half block east of Wornall.
You'll know when you're walking by the mesmerizing Lyman Whitaker wind sculptures that Leopold Gallery is not far off. They have installed these gorgeous sculptures along the sidewalks in front of the Brookside shops on 63rd street that are a fitting welcome to such a distinguished art gallery. If you happen to be window shopping in Brookside, you simply can't miss the Lyman Whitaker sculptures gracing the sidewalks (as well as my piece hanging in the window of the Gallery itself).
Visit Leopold Gallery Today!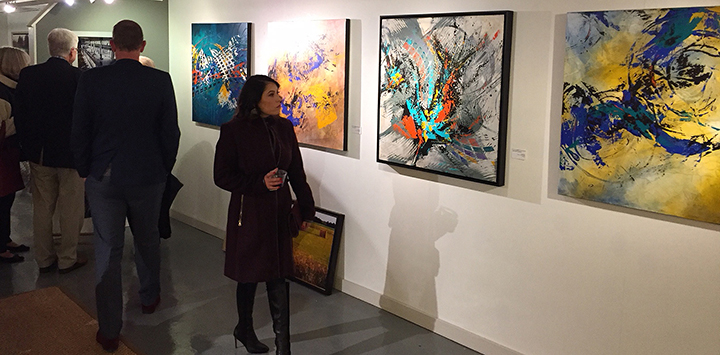 If you've never had the good fortune of visiting Leopold Gallery, now's your chance. Start by catching a preview of my work on the Gallery's website, then be sure to swing by and see them in person.
In addition to viewing my featured pieces, take some time to enjoy the work of all the other wonderfully talented artists who are featured there, including my friend Nancy Teague. You simply can't find better artists on display in Kansas City than at Leopold Gallery, and I consider myself so very honored to be featured among them with this exhibition.