Nature's Creativity: Where the BIG Ideas are Inspired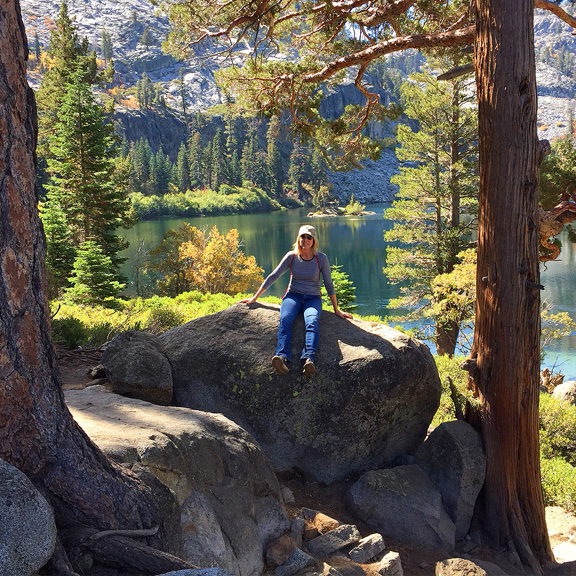 One glorious week in the Lake Tahoe and Truckee, California area helped me realize how many times the forms, colors, and textures found in nature appear in my artwork. Mother Nature has a way of manifesting through my acrylic paintings consistently, yet unconsciously, in a BIG way right after I return from a trip like this one. In this post, I'll reflect specifically on three paintings that were created right after spending quality time communing with nature and how Mother Nature's essence is reflected in my work.
MOTHER NATURE: A CREATIVE GENIUS
"Art radiates energy that connects us to our world and reminds us to be more aware of the beauty and color that surround us."
This mantra is on my homepage and was inspired by my love of nature. I truly believe that there is no better place than the outdoors to really comprehend the truth in that quote.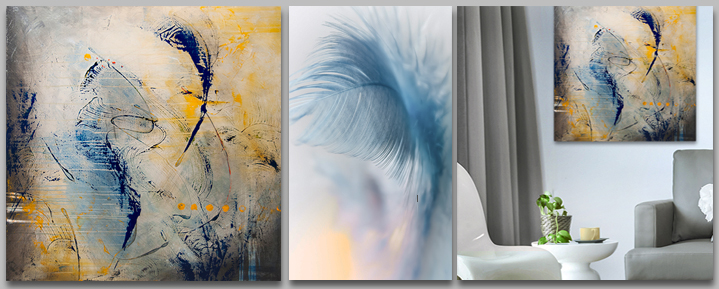 Whether we realize it or not, when we spend time outside we become more aware of what is going on around us. We see colors more vividly, we discover uniform patterns in natural textures, and we generally take time to be more observant of details – large and small.
Nature is all about creation and beauty, which must be why so many artists like myself are absolutely in awe of it. My painting titled, "A Wing and A Prayer" [36"x36"] is expressionistic which means it was intuitively painted without any visual references. It manifested itself through me on to the canvas, in an improvised and random way.
When paintings are finished, I reflect on what has appeared on the canvas and ask others what they see. In this piece many of us see air and feathers floating which of course led to the title it was given. The biggest compliment I've gotten on this abstract painting is from people who tell me they feel soft air swirling around them and feel comfortable in the presence of this piece of art. In some abstract way my experiences in nature translate to others via my art and turn in to something, "…that radiates energy and connects us to our world and each other."
TAKING A HINT FROM NATURE
After spending time out in nature, the relation of color, texture, and form comes across more clearly in my work. The subconscious translation of twigs, leaves, soft sunlight and atmosphere I recently experienced manifests itself in paintings like "A Look Inside" [60"x36"].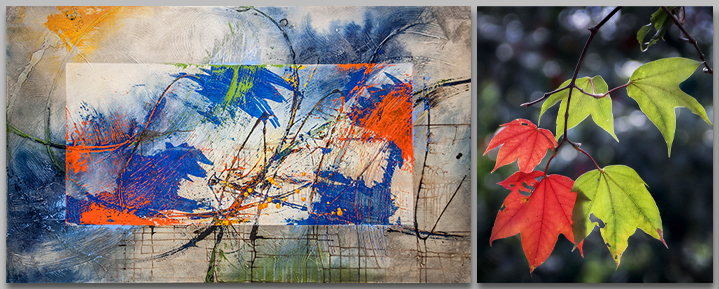 The title was more about what I was feeling when I painted it, not what it reflects when I look at it. I felt as if I was painting what was inside me and how I perceive things…hence the name. Once the painting was complete, however, I could see the elements of forest details pulled inadvertently from memory. The photograph I've compared the painting with above represents a literal interpretation similar to things I may have seen on a hike. Luckily for artists, nature doesn't copyright…it just inspires!
BORROWING COLOR AND PATTERN
When I begin a painting the only thing I think about is what color palette I'd like to use. Otherwise, I simply let the paint fly! My diptych titled "Fire and Ice" was based on cool pale blue and white acrylic hues. As I built the layers of color and the line work began to literally crystalize; I could see that some warmth was needed, so the reds and yellows were added to achieve more depth.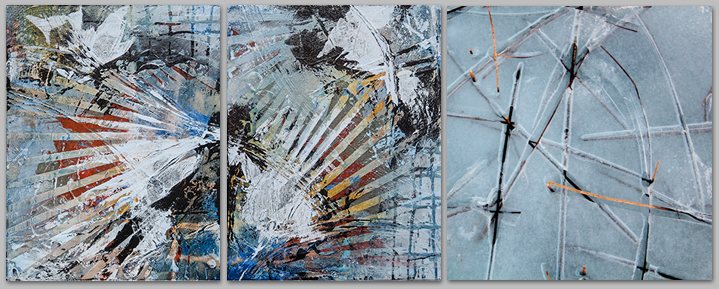 Once these two 14"x18" canvas panels were complete what I saw emerge was influenced by memories of trips to the great north in the wintertime. This piece evokes the feeling of standing on a frozen blue lake looking down at my feet and seeing layers of ice crystals, cracks, and possibly red and yellow leaves caught below the surface. The dark black invokes the depths of the unfrozen water below.
I believe that the magnificence of nature makes us as human beings more present and mindful.
Do you find yourself refreshed, inspired and full of ideas after taking time outdoors? What is your favorite nature escape and have you found that it has had a long-lasting impact on how you see the world? Please share your views below.